Agile Modulator-small case
  Model:MIC-8000J
  Overview:
  This agile TV modulator provide audio and video modulated RF signals on TV channel which is selectable throughout frequency range:45-870MHz.Any standard audio/video source can be used:satellite receiver,TV camera,video tape recorder or TV demodulator.
  Two pushbuttons on the front panel operate on a built-in microprocessor which selects Video Carrier Frequency.The Video/Audio Carrier Level Ratio and Video/Audio Modulation Index can be adjustment on the front panel.LED channel display,whose position on the panel displays the channel selection.
  The modulation process operates on a local crystal-controlled IF signal,which via SAWF is directed to a double frequency conversion that uses PLL synthesized local oscillators.SAW filtering provides true VSB(Vestigial Side Band)response and enables the modulator to be used in adjacent channel systems.
  Features:
  ●Agile selection of any channel between:45-870MHz.Systems:B,G,I,D,K,M,N,L
  ●Base-band video and audio inputs.
  ●IF SAW filter.High vestigial sideband selectivity.
  ●Microprocessor controlled.LED display.
  ●Full+53dBmV output.
  ●Adjustable RF output level,A/V level,Video and Audio modulation index
  Specifications: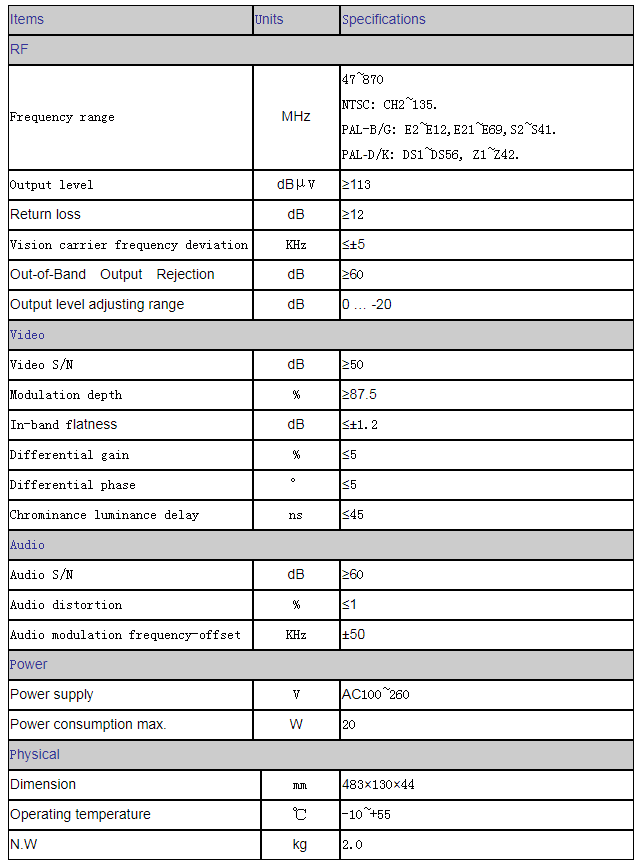 Photos for reference: